Top 5 stocks to buy and hold for next 5 years
We are doubling down on these high growth stocks that we already own in our Portfolio 2020 or Portfolio 2021. If you were bullish on these stocks few weeks earlier before this massive correction, you should buy them again
We are doubling down on these high growth stocks that we already own in our Portfolio 2020 or Portfolio 2021. If you were bullish on these stocks few weeks earlier before this massive correction, you should buy them again to either average down or start a new position.
Strategy for 2021 is to keep buying these stocks incrementally and utilize dollar cost averaging.
After the market goes down a lot, it goes up a lot.
But no one actually know when the "down" would end and when the "up" would start.
What we can do is keep buying our highest conviction quality companies. These are not just Tickers or Symbols, these companies has visionary founders, great leaders and disrupting their respective industries.
Decline in all of these stocks is great opportunity  for long term investors. Start accumulating these stocks for rest of the year, slowly.
Apply dollar cost averaging strategy. Learn it here
Buy Fastly ($FSLY) :$64 or better, 1 year target is $120
We started our first entry in Fastly on Oct 2020, and this is one of our highest conviction cybersecurity company. We saw some wild swings since we added in in our Portfolio 2021.
Fastly, Inc. operates an edge cloud platform for processing, serving, and securing its customer's applications. The edge cloud is a category of Infrastructure as a Service that enables developers to build, secure, and deliver digital experiences at the edge of the Internet. It is a programmable platform designed for Web and application delivery.
As of December 31, 2019, the company's edge network spans 68 points-of-presence worldwide. It serves customers operating in digital publishing, media and entertainment, technology, online retail, travel and hospitality, and financial technology services industries. The company was formerly known as SkyCache, Inc. and changed its name to Fastly, Inc. in May 2012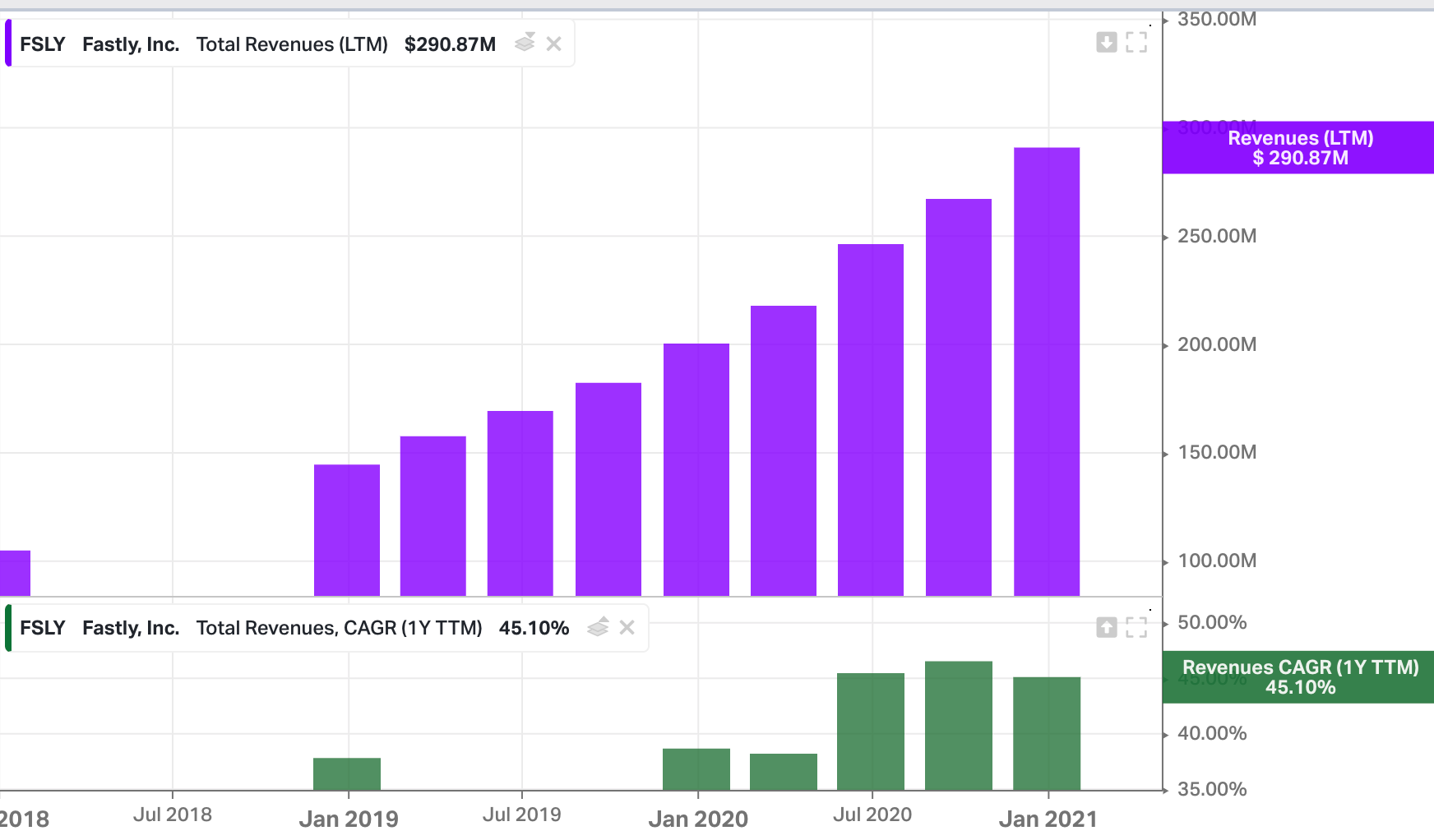 Fastly is doing all great things and acquiring relevant companies and we can expect it will continue growth by acquisitions.
FSLY's acquisition of Web Application Firewall (WAF) vendor, Signal Sciences, is very significant. The current size of WAF market is estimated at $3.7bn in 2020, projected to grow 17% through 2025 to reach $8bn – offering considerable incremental revenue potential for FSLY.
Buy Draftkings ($DKNG): $60 or better, 1 year target is $100
We also added Drafkings, when we added Fastly in Oct 2020. We saw the peak at $74 and currently sitting on 44% gain. But we expect Draftkings to go much higher from here over the years. Just keep accumulating this dirsuptor and first mover in online betting.

DraftKings is a digital sports betting company. It's growing at a very rapid pace and has partnerships with many major brands.  DraftKings is the leader in sports betting. It recently acquired SBTech, and making its way into gaming.
DraftKings is now reaching approximately 25% of the U.S. population, with plenty of room to grow further.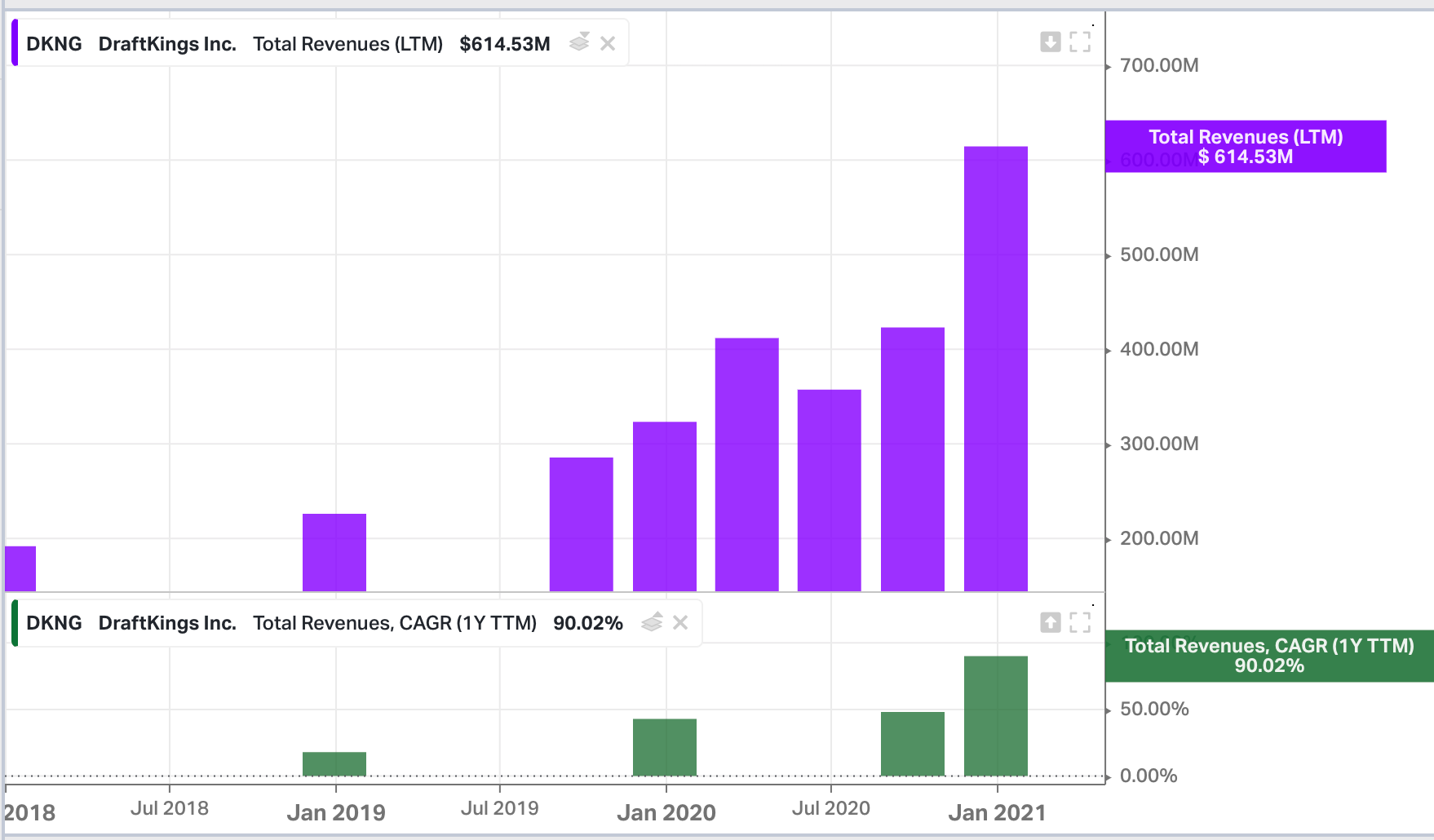 Buy Pinterest ($PINS): $69 or better, 1 year target is $105
Pinterest is our highest conviction, as well as most favorite stock. Wall street is not able to realize the potential of $PINS. It's growing much faster internationally then any other social media network in US, It's growth is far from over.
We first added $PINS to our portfolio in Jan 2021 at$66.90 and saw a peak of $90. Now it is back to buying range. Despite the recent pullback, we believe Pinterest is a solid company to own and remain invested for next 5 years.
The company has been steadily growing its user base, while at the same time improving its advertising tools to lure in more advertisers.
While Pinterest has slowly been improving its ARPU in its domestic market, its international audience is still under-monetized, which suggests that the business has more than enough opportunities to improve its financials and create additional shareholder value along the way.
The company's Q4 report, which was released last month, shows that Pinterest had a great end of the year. Its revenues during the three months increased by 76.5% Y/Y to $706 million, while its EPS of $0.30 was above the consensus by $0.13. Pinterest also had a GAAP profit of $207.8 million during a period against a loss of $35.7 million a year ago, while its global MAUs increased by 37% Y/Y to 459 million.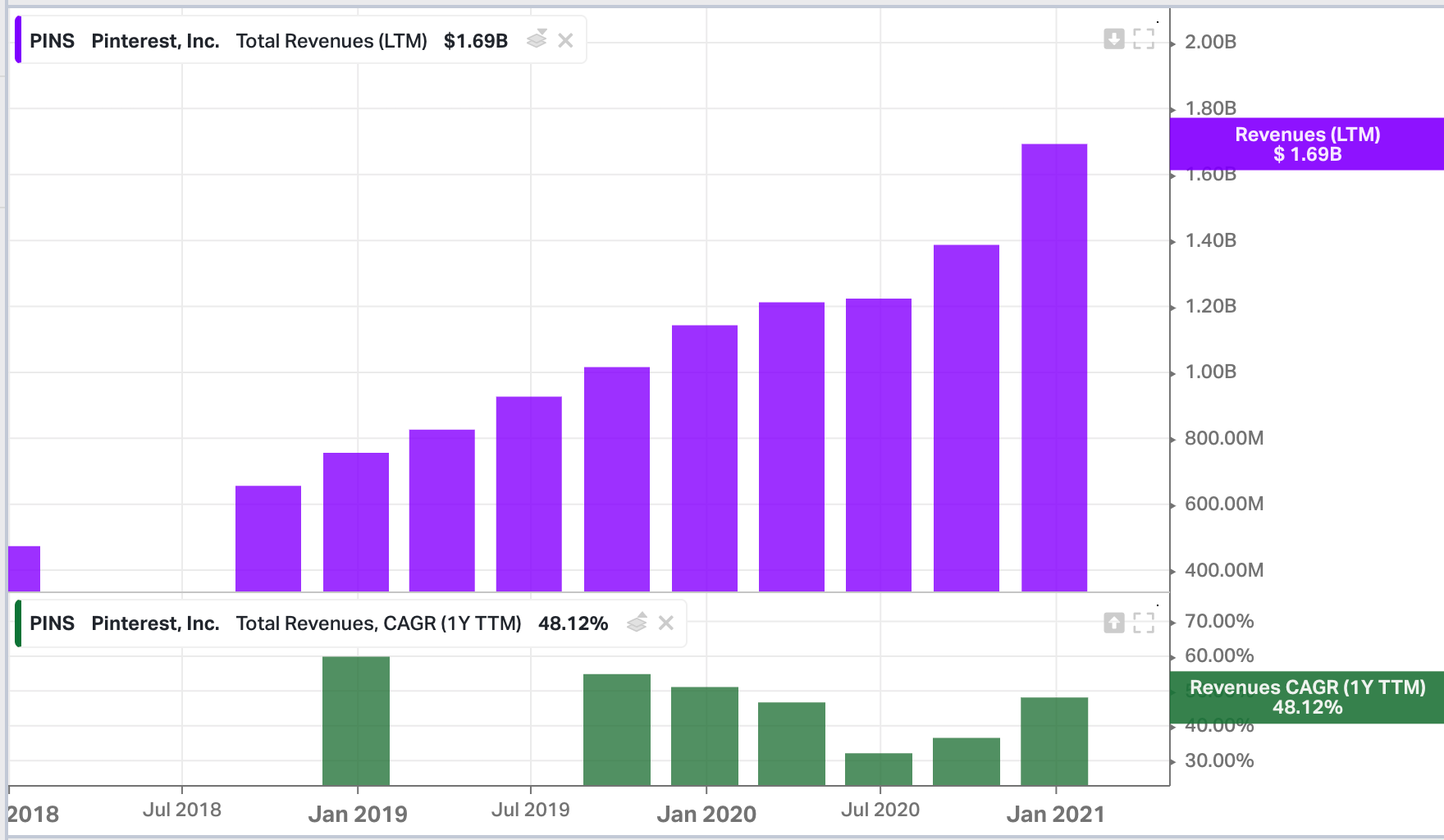 Buy Teladoc ($TDOC): $175 or better, 1 year target $270
Our first entry in Teledoc was at $197 and 2nd entry was at $180 and now third entry would be at $175.
Teladoc is going to dominate the telehealth industry. Other investor makes a bear case that what if Amazon enters into this market. This industry is so big that many players can capture the market. Amazon is not a threat for TDOC, but it's the validation of this growing trend and Teladoc is at the forefront.
TDOC is the largest telehealth provider in the United States, with over 52 million paying members, and over 22 million visit fee-only individuals. The firm operates mostly on a B2B model, with thousands of clients including employers, health plans, hospitals, and health systems.
They currently have over 40% of the Fortune 500 as clients, who in turn provide their employees with access to the telehealth platform. In 2020 Teladoc saw over 10.5 million virtual visits, the most in the industry.
Teladoc makes the majority of their revenue (79%), on contractually recurring, subscription access fee revenue. Clients will pay per member per month (PMPM) or per enrollee per month.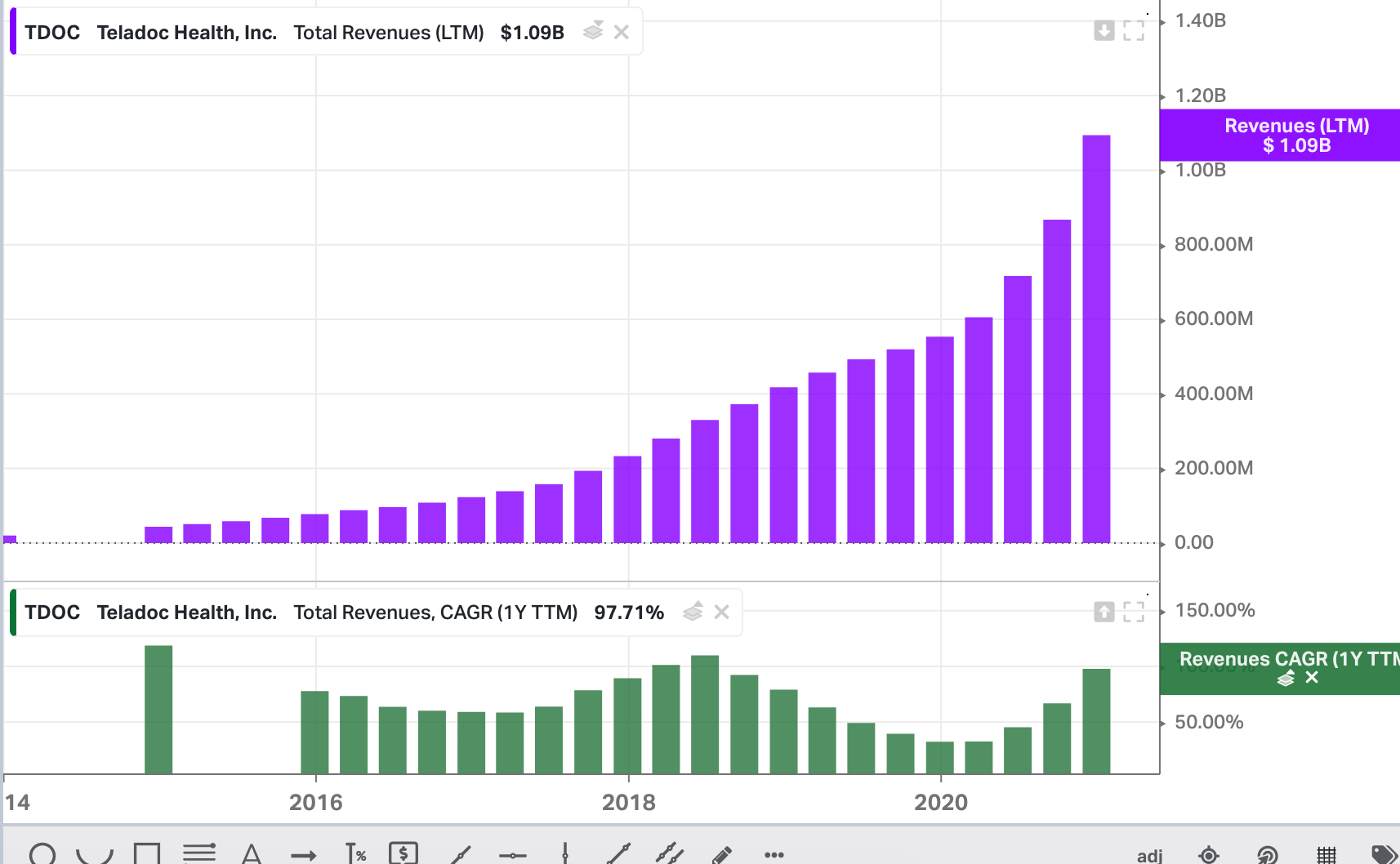 See Teladoc investor presentation here.
Buy FuboTv ($FUBO): $21 or better, 1 year price target is $45
This is one of our most controversial long term hold stock, which is down 30%. We have bought it last 3 times at $38, $28, $27 and now at $21.
We are not catching the falling knife here, but we are pretty confident that Fubo will be a mutli bagger like $ROKU in next few years. This is a relatively small company and hence expect to see high volatility in it's stock price.
Fubo is hugely misunderstood. The stock is cheaply valued on its streaming and advertising business alone.
The investor's are concerend about high per user cost which is growing.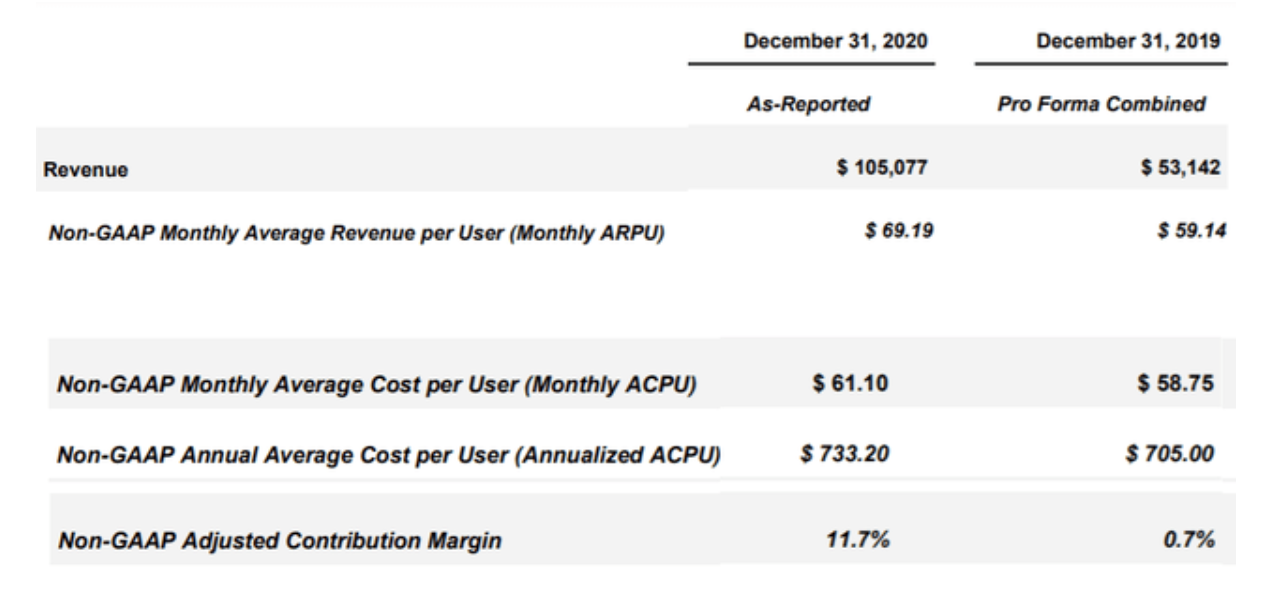 On the far right column, we can see how Q4 2019 had an average cost per user at $58.75, then, in the middle column, we can see that for Q4 2020, the average cost per user was $61.10 - amounting to a 4% y/y increase in cost per user.
But we are bullish on revenue.
fuboTV's advertising revenue increased 157% y/y to $13.1 million during Q4 2020. by the end of 2021, we should expect fuboTV to be generating at least 12% of its revenues from advertising alone. Also Fubo's subscriber growth rate is much higher then Draftkings at 73% y/y..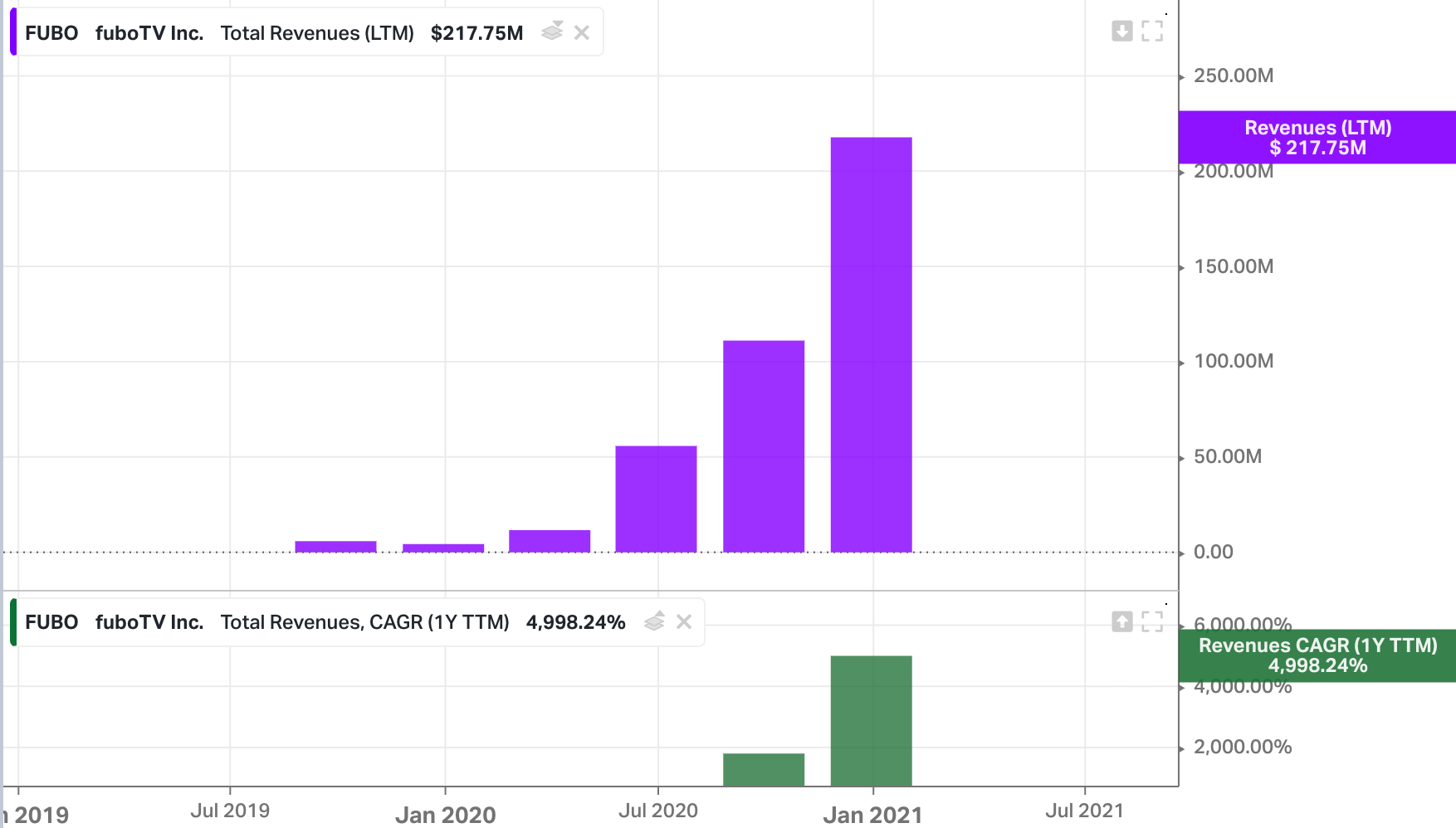 Note: All price targets are conservative
-Alpha Staff