Why tech sell off is near to an end and rally may follow through
Follow us on Twitter : https://twitter.com/AlphaInvestor4
Follow us on Twitter
Stock market is forward looking and it sent first signal on Friday that we could be near end of this valuation reset of high growth stocks., But we have to remain cautious and wait for confirmation.
QQQ ended last week with positive signal closing above 100 day moving average. If next week follow through with increase in daily average volume, it can confirm the reversal from here. Don't expect our gains to come back in few weeks, be rational and keep adding to our quality stocks and cut below average stocks. In reversal, quality stocks are the first to recover.
This revaluation basically provides strength to this bull market and gives other sectors chance to play catch up with technology.
High growth companies are again going to lead by end of the year.
As i mentioned last week we could see 300 support for QQQ and here we are..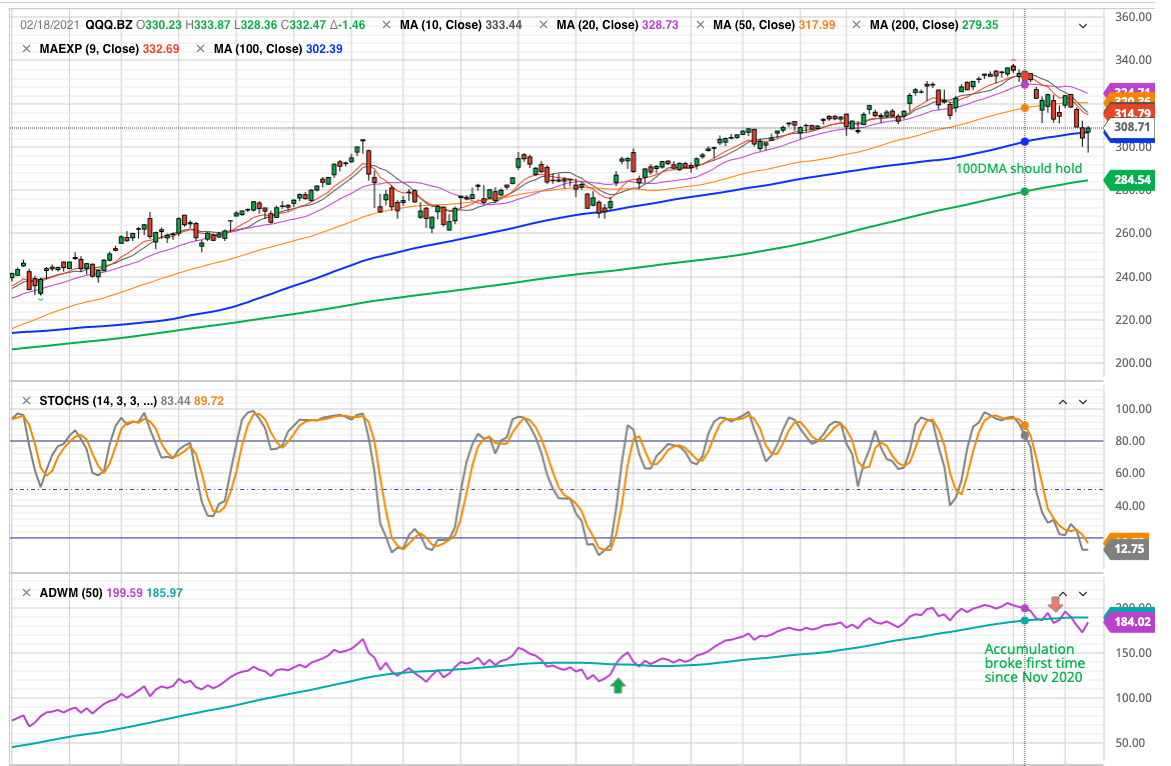 As you can see in first chart, QQQ closed above 100 DMA (blue line), It's a strong support but it should hold. We need to see if more indicators support this during next week and QQQ holds above 100DMA and closes next week in green.
Second chart shows QQQ is oversold below 20 and it's a good indicator that shows stocks are cheaper than they were earlier, but 3rd chart that shows accumulation and distribution over 50 moving average broke the green line first time since Nov 2020. At least next 4 weeks, we can see it can consolidate around this level.
Let's not be frantic in buying and selling. Our strategy would be to slowly cut our weak performers and add to our quality stocks which are at discount now.
One more interesting chart i would like to share, that confirms this could be the end of crazy tech sell off.
Number of stocks at higher than 20day moving average found bottom on Thursday and closed above the blue support line on Friday.
We can see some chopping around here in March and rally would follow only after few months of consolidation. It may take 1 month, a quarter or six months, no one would surely know. But our strategy is clear to add to our high quality growth stocks that can give exponential returns in long term.
Growth vs Value
We heard lot of chatter about big money moving into value stocks or economy reopening stocks like energy, airlines or cruise-lines. So i tried to visualize how it looks over the span of last 20 years.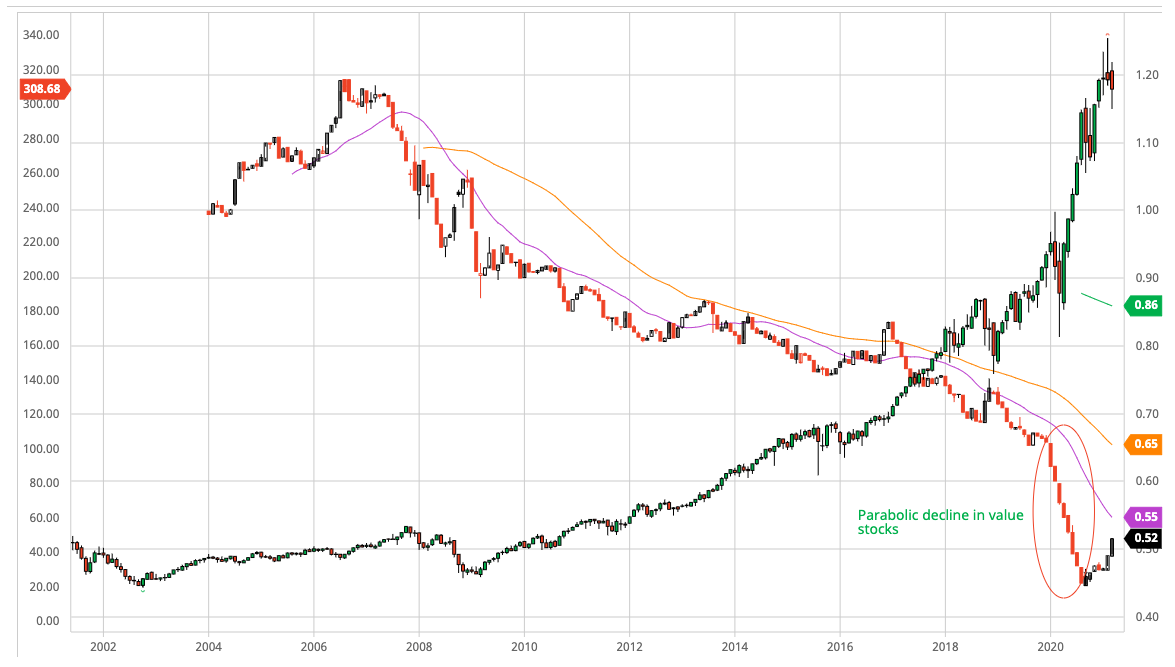 As you can see the ratio between value vs growth (red/black candles) is declining since 2006 and it got accelerated parabolically after covid. So value stocks are now trying to catch up (black candles) and they can try to reach 20 day moving average (purple line). If we compare this trend with QQQ, every time Value/Growth ratio trends around 20 day moving, QQQ starts to pick up and rally.
Portfolio Update:
We lost all of our profits in Portfolio 2021 we are now down 2.7%, we were up about 37% in Feb. If you booked 20% of profits as i indicated in Dec and Jan then you must have some cash to buy this dip.
Portfolio 2020 is still up 54% down from 99%.
We are here for long term, i am positive we will end the year with profits.
We intentionally hold off any alerts last week, to not do buy/sell frantically.
We strongly recommend to add to our existing stocks like $PINS, $ZM, $FSLY etc.
We will be shuffling few stocks and add to our existing positions on Monday in Portfolio 2021, we will send an alert please enable notification for email on your phone.
These are some new Growth stocks you can buy as economy re-opening play out.
Bumble ($BMBL)- Dating App, Match Competitor
AirBnB ($ABNB) - People will resume travel, highly valued but worth it.
Uber ($UBER) - Food delivery is booming and will continue, On demand taxi will ramp up and expect to reach it's pre pandemic levels.
Note : We are not adding above stocks to portfolio yet.
Get Alpha investor premium and never miss an alert, specially during such market correction and volatility.
-Alpha Staff