Option Alert: Buy BABA Call options
Take this action:
Uncertainty about ongoing banking crises and interest rates have been calm down a little. Fed raised interest rate and indicated that there will be only one more raise.
Our indicators that we follow telling us that market might rally next leg up from here, that could be equipped with good tech earnings.
Buy, to open, BABA May 19 2023 $85 Calls @ $7.50 or better
If BABA reaches $120 by end of Apr, we can pocket more than 400% in profits.
Even if BABA just reaches to $110, we can pocket more than 250% in one month.
Stop loss at $81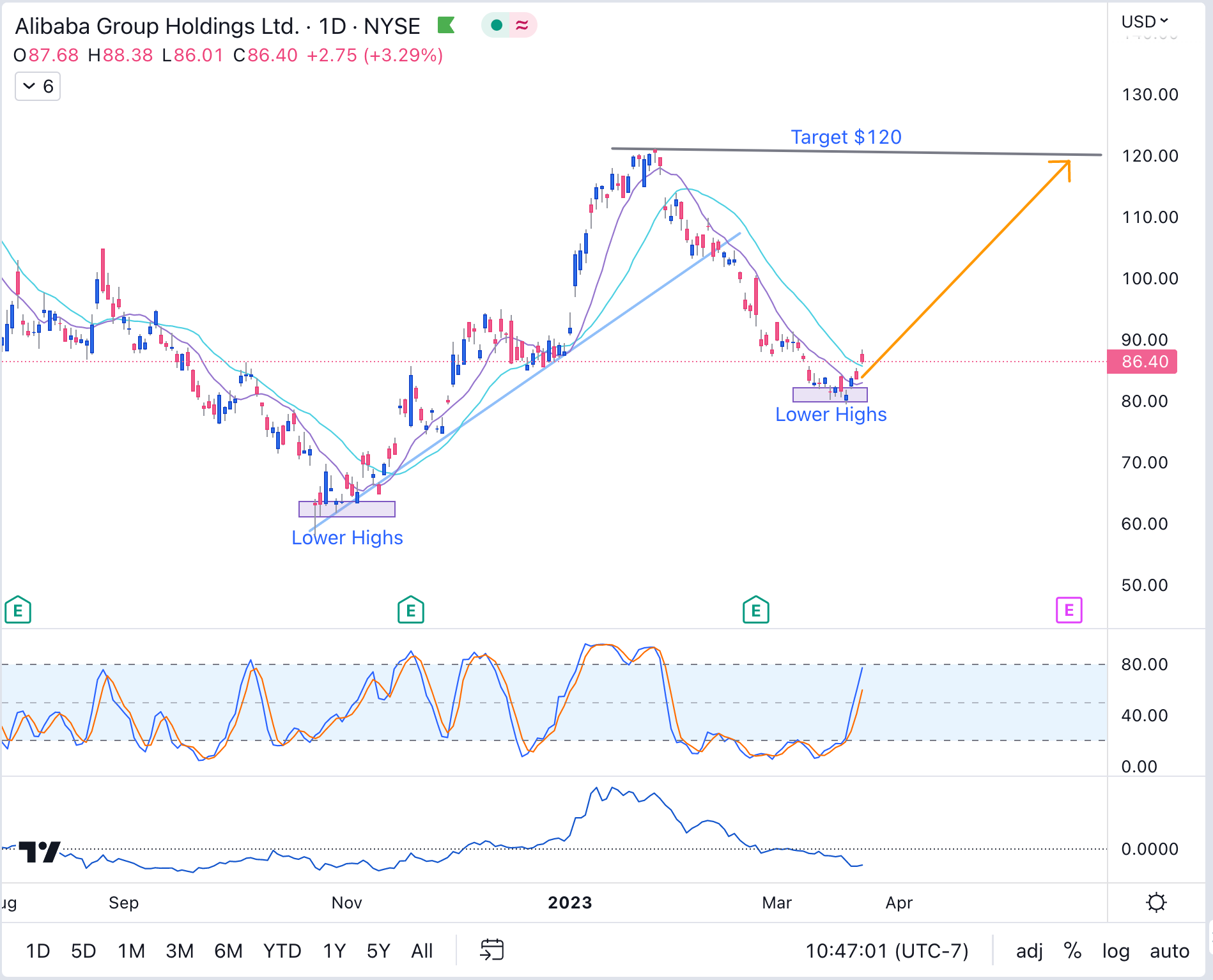 Analysis:
In above chart you can see, BABA made a lower high in Nov as outlined with rectangle, and it is forming a similar lower high this month.
yesterday BABA closed right above its 10 day moving average (purple line) and today it's trading above 20 day moving average (cyan color line), that shows shorter term trend reversal.
If BABA closes above 20 day MA today, we can see this trend continues to the first resistance around $110. If BABA reaches $120 by end of the Apr this trade could make more than 400% in profits.
Keep strict stop loss at which you are comfortable, as option trades are risky. Avoid holding on to your options into last two weeks of expiry
Note: Please be mindful of position sizing. We do not suggest to put more than 5% of your portfolio in single trade or more than $1000 in single trade for larger accounts and $500 for smaller accounts.
-Alpha Staff
Note: Options can expire worthless. So you must be willing to risk 100% of what you put into trades. Don't risk funds you cannot afford to lose.