Week 4: Stage analysis top picks
Top picks
This alert contains list of stocks showing relative strength in comparison to broader market and also attempting Stage 2 breakouts.
What is a Stage Analysis? Learn here
It's good to start a long term positions in the stocks which are attempting stage 2 breakout, and may start a new uptrend.
How to manage these trades?
Remember these charts are on weekly timeframe, that means consider at-least 3 to 4 quarters for the setup to materialize. Sometimes the stock would retrace back to support, as long as the stock remain in stage 1 base formation, do not sell or cut loss. [See Wayfair chart below for example.]
If a setup breaks it's stage 1 support level, and end two consecutive weeks below it's previous close, then only cut the losses.
If a stock try to rebound from support level, it's good to dollar cost average(DCA) on the same trade. The rule here is simple, if a stock ends two consecutive weeks above it's previous close, then add a new position near support level. Do NOT try to catch the bottom.
A stock in a stage 1 base, can resume another stage 4 decline. We at Alpha Investor do not recommend to hold a stock in stage 4 decline.
---
Zillow Group Inc: Long Z above $40
Zillow is trading right above it's Stage 2 breakout zone, If overall market continue to move higher, Zillow can make a much better move up. Zillow is forming Stage 1 base since Jun, this Stage 1 base looks pretty strong.
Keep stop loss at $29, if it closes two consecutive weeks lower than $29.
If it rebounds from support level, than perform dollar cost averaging and add a new position around support level.
---
DoorDash Inc: Long DASH above $50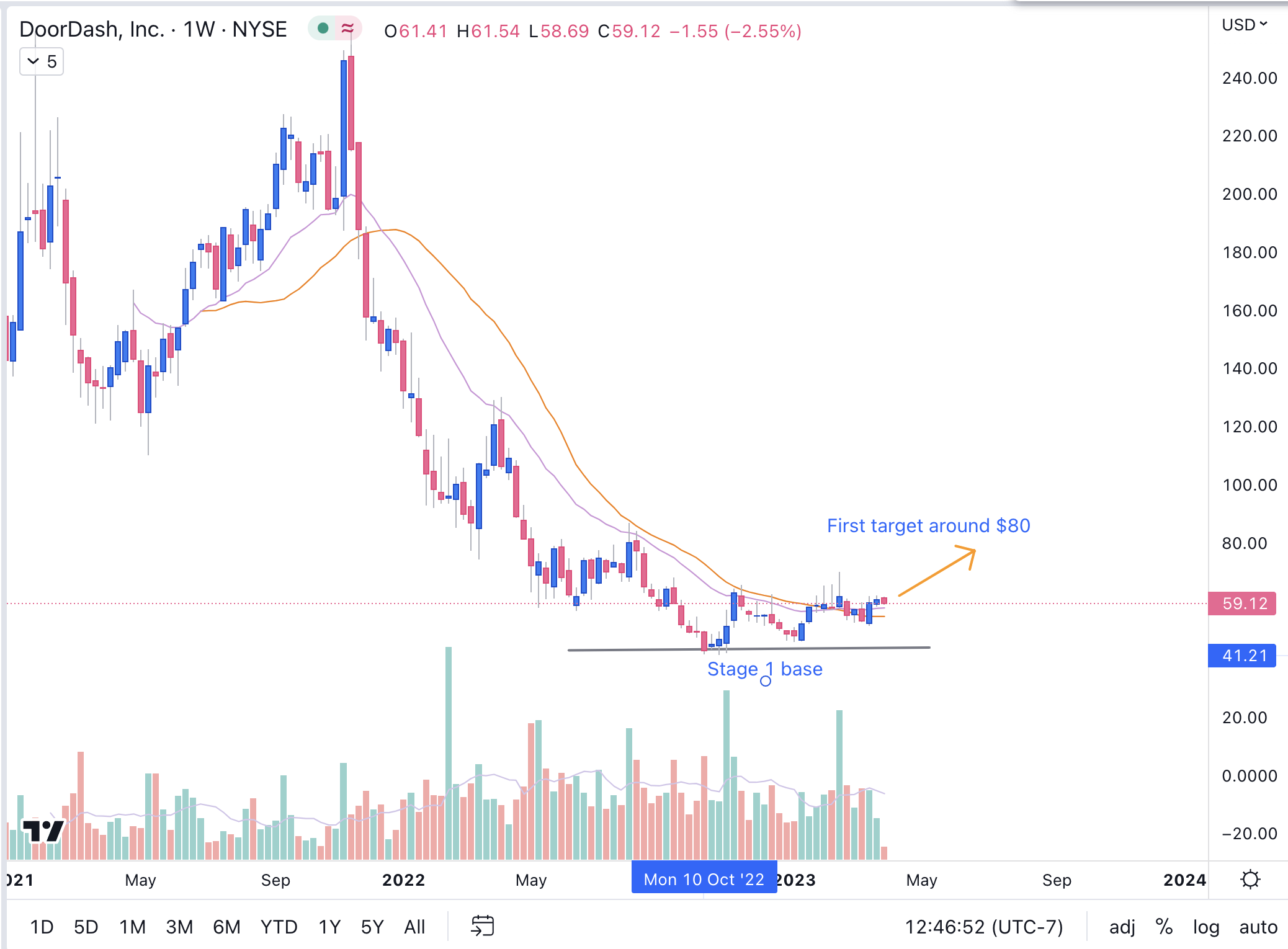 DASH has very similar setup as Zillow. DASH will move better than other stocks, if overall market goes higher.
Keep stop loss at $40.
---
Bentley Systems, Inc: Long BSY above $40
Look for BSY close this week, if it ends the week above $40, we can quickly see a move up higher towards $50.
We are keeping much stricter stop loss on this one. If it rebound from here, wait and start a new position at Stage 1 support level, around $32.
---
Wayfair Inc: Long W above $30
Wayfair is exactly at the Stage 1 support level. It is a good example of what above 3 charts can also behave in case if market goes south from here.
Wayfair tried to break stage 1, but retraced heavily back to the stage 1 support at $30.
But it stayed above $30 for last two consecutive weeks and hence it now satisfied our rule to add a new position with a strict stop loss.
Keep stop loss at $29.
Same rule applies, if it closes two consecutive weeks lower than previous below of $29, then cut the losses.
-Alpha Staff
See Portfolio 2023 for current holdings.

BABA Call options up more than 100% since last week. Get premium to receive timely option alerts in your inbox.