Three stocks we are buying now
Note : These stocks might be part of our 2021 portfolio, please subscribe to get our 2021 portfolio update.
Our aim is to find top-notch companies that we can hold for years to come and reap huge profits.
This week, 15th Nov 2020 we are adding 3 companies that we think has potential to be multi-baggers.
It's All About Great Businesses and Passionate Leaders.
Following 3 stocks are timely buying opportunities. If you already have them in your portfolio, you can add more or consider these stocks to add new positions. We recommend to have at least 15-20 stocks in your portfolio.
Unity Software ( U ) : Buy @ $115 or under
Unity Software Inc. provides platform for creating and operating interactive, real-time 3D content. The company platform provides set of software solutions to create, run and monetize interactive, real-time 2D and 3D content for mobile phones, tablets, PCs, consoles and augmented and virtual reality devices.
We initially recommended Unity at $95, and we are again recommending this stock at current levels. We see great future for this company as they grow in the gaming market. The company generates revenue mainly through the sale of subscriptions to its platform products and related support services, they also have revenue share model and usage based fee structure.
Unity has the potential to become one of the most important and dominant technology companies in the world in AR/VR technologies.
Unit had a recent strong quarter and lot of hedge funds and institutions started adding Unity in their portfolio. Visit SEC for 13F filings.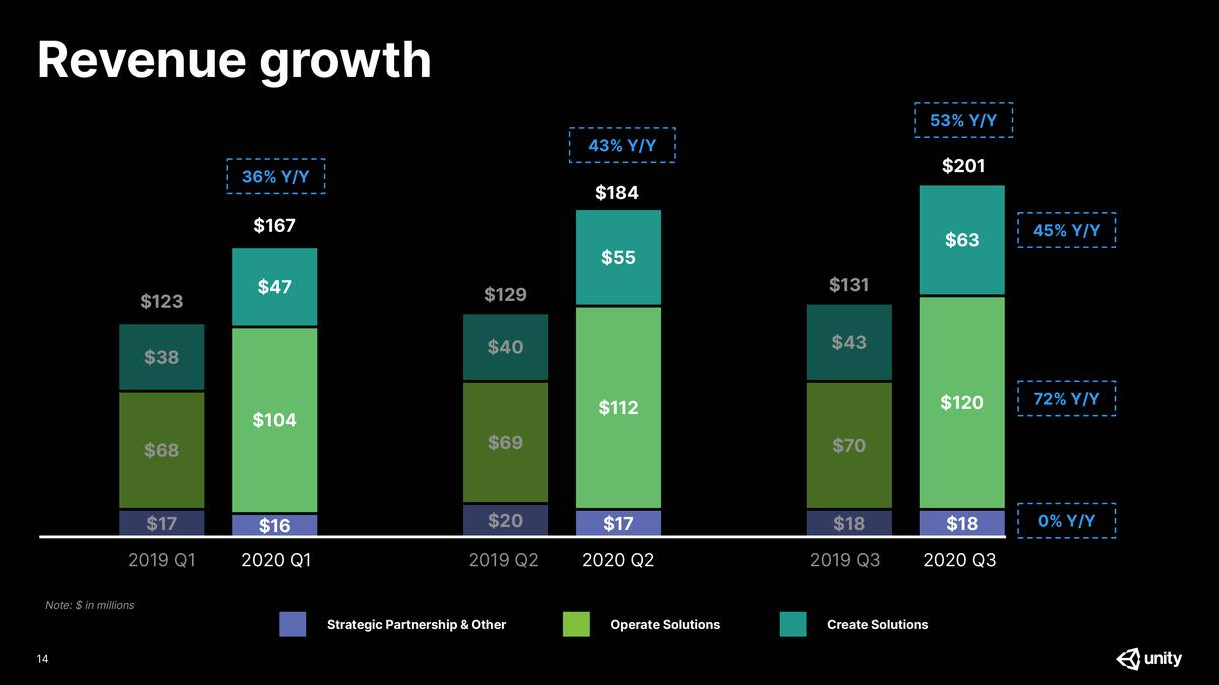 Unity revenue is growing consistently since last 3 quarter and we expect this to remain same for years to come.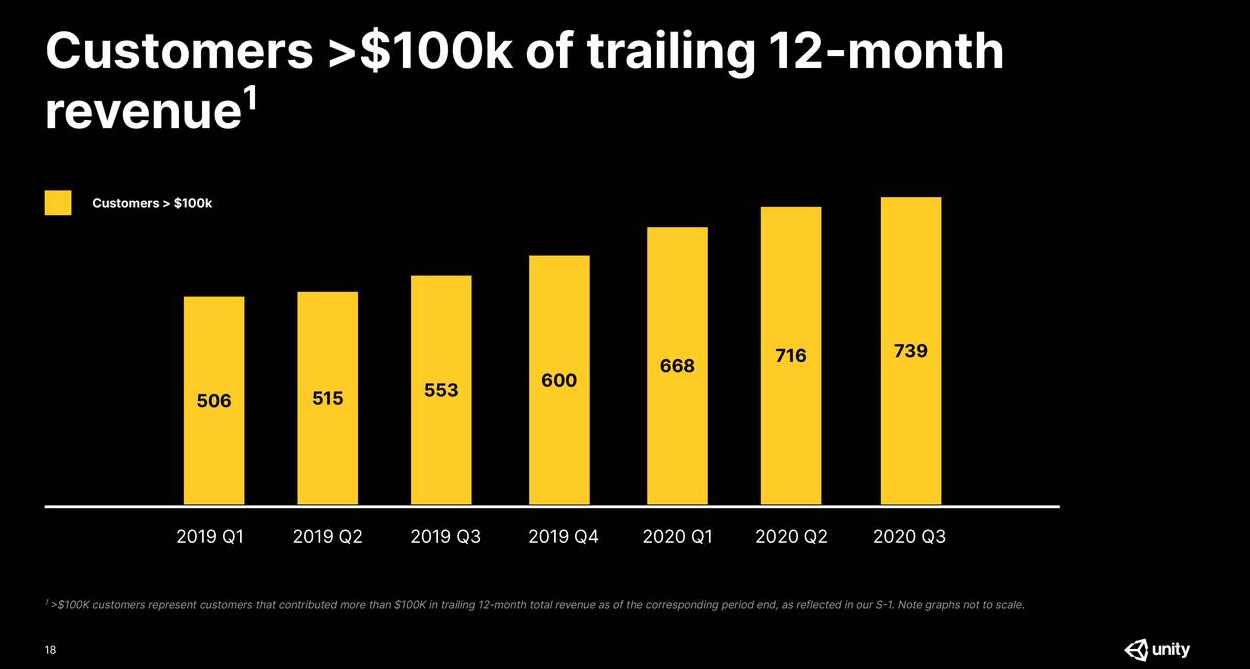 Unity customer's who pay greater than $100k has grown to 739, i.e. almost 40% jump from last year 3rd quarter.
JFrog Ltd (FROG) : Buy @$60 - $62 or under
This is another recently IPO'ed company we are recommending to our subscribers. It's an hidden gem which is not yet fully noticed by wall street.
JFrog through its hybrid DevOps platform, provides the tools for continued software release management, allowing for both software to be built and released faster, and in a more secure manner.
They have a whole suit of products for developer operations.

JFrog products seamlessly integrate with practically any development environment on Earth, from legacy code to the most recent containers and micro-services.
JFrog has nearly 6000 paying customers. JFrog saw strong pricing action and went public at $44 per share in Sep 2020, Shares jumped to $65 on their opening day, with operating asset valuations at $5.4 billion. We are buying at neat IPO day valuation.
Even though in future if the stocks go down, we recommend to add on major dips. This is a long term play and we will start adding smaller positions over the time.
Bandwidth Inc (BAND) : Buy at @$140 - $143 or under
Bandwidth.com, Inc. provides cloud-based communications platform for enterprises primarily in the United States. The Company offers data Internet, voice/voice over Internet protocol, managed network and conferencing services.
BAND is one of our favourite companies which is growing steadily. It is leading the transition in cloud based connectivity. Bandwidth the network providers for Google, Microsoft apps, and Zoom.
Its platform enables enterprises to create, scale, and operate voice or text communications services across mobile application or connected device. The company also provides SIP trunking, data resale, and hosted voice over Internet protocol services. It serves large enterprises, small and medium-sized businesses, technology companies, and other business