Market volatility in growth and tech stocks continued last month, we saw wild swings in the stocks we owned.
It seems 2022 is the year of accumulation in tech stocks. No one actually knows how long it will take for these stocks to recover, this is the year we need to practice what we preach. BE A LONG TERM INVESTOR.
In the bear market high quality growth stocks goes to their rightful owners, traders and short term thinkers will leave the ship because their trading decisions are just based on price movement. They mostly don't know why they bought the stock at first place.
Short sighted investors mindset
Stock going up - company is great
Stock going down - company is doomed and will bankrupt
Long term investors mindset -
Stock going up - Keep calm and study business
Stock going down - Study why, buy more at attractive prices or do nothing
Think long term.. Keep buying your strongest and highest conviction stocks in 2022, this is exactly we will be doing in Portfolio 2022.
Here is my take on market corrections:
Since 1946 S&P 500 index declined between 10% and 20% only 29 times and has recovered in 4 months. Market corrections are fairly common and normal, during that time wealth move from patient to impatient investors. Short term volatility is the price we pay as growth/tech investors and this is exactly what we are witnessing since last year and would be in 2022. We have to stay committed to our long term strategy while enjoying our daily lives as well.
To sleep great at night while staying invested in our growth portfolio this is what we should do:
Make sure the money you need in next 3 years should not be invested in stocks
Look market declines as opportunity and stay invested or gradually do DCA
Don't try to time the bottom, no one really knows
Choose your stocks wisely backed by great founders and leaders
Don't monitor market daily that causes anxiety and results in stupid mistakes
QQQ Outlook : Feb
As I mentioned in our last QQQ update on Jan 9th.. QQQ sold off further as we anticipated. But seems there is still pain remains in growth stocks.

As i indicated above we should not worry, we will be keep adding slowly to our Portfolio 2022, because we are not investing to profit by end of the month, or by end of the year or by next year. Our target is long term , think 2025 and beyond.
I want to share an interesting chart with you that shows when we should consider further accumulation of our strongest stocks as well as add new to our portfolio.
Following is the chart that shows percent of stocks above 200 day moving average since 2009 in Nasdaq 100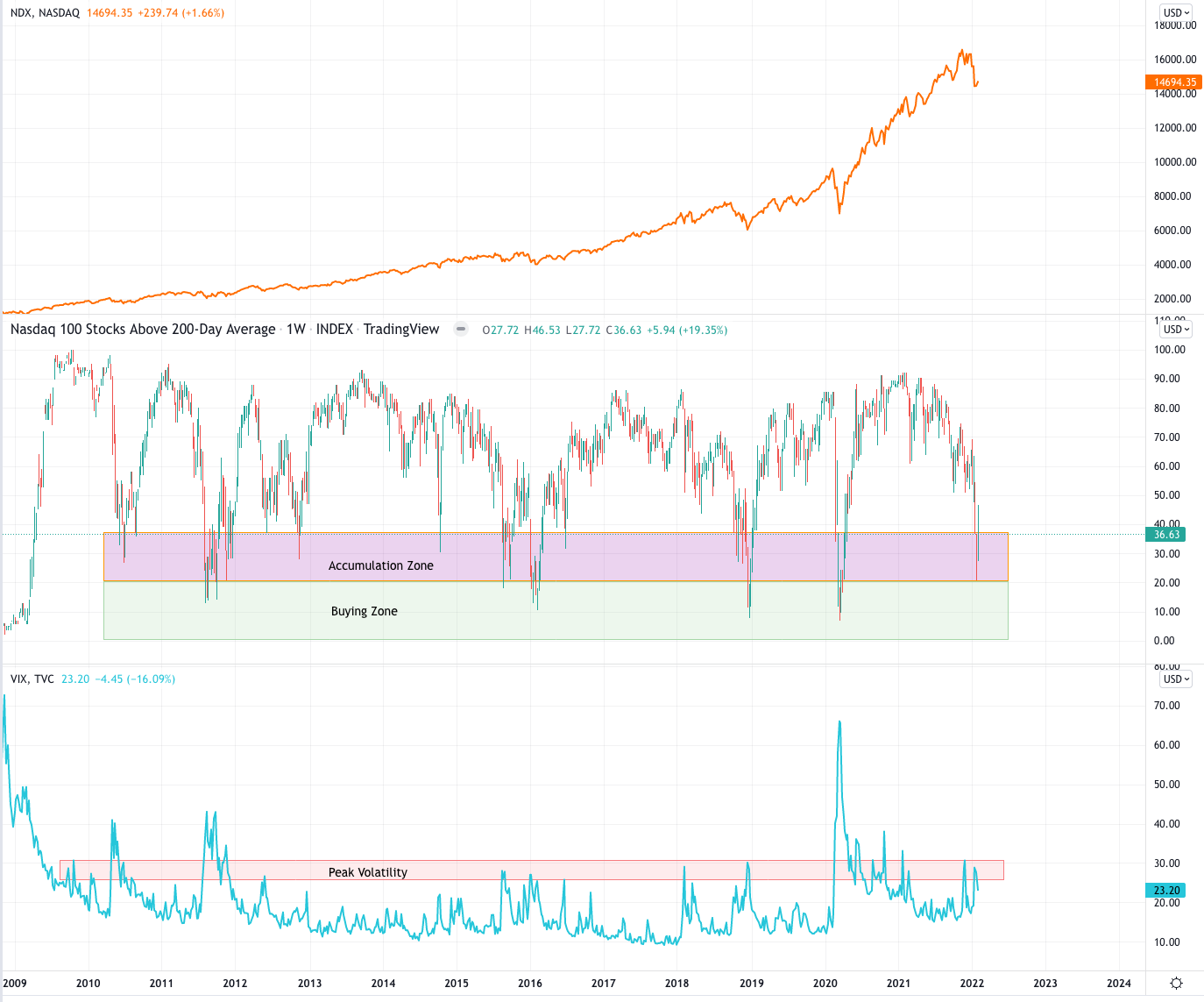 The middle chart is important here, that shows Accumulation Zone and Buying Zone, when volatility hits the ceiling and when too much fear is in the market. It shows that only 20% of Nasdaq 100 stocks are now trading above 200 DMA.
Since 2009 that has occurred during following years:
2011 -2012, 2015-2016, 2019, 2020 (covid) and now 2022
Take away from this chart is - 2022 is the year to build your portfolio for long term.
---
QQQ Analysis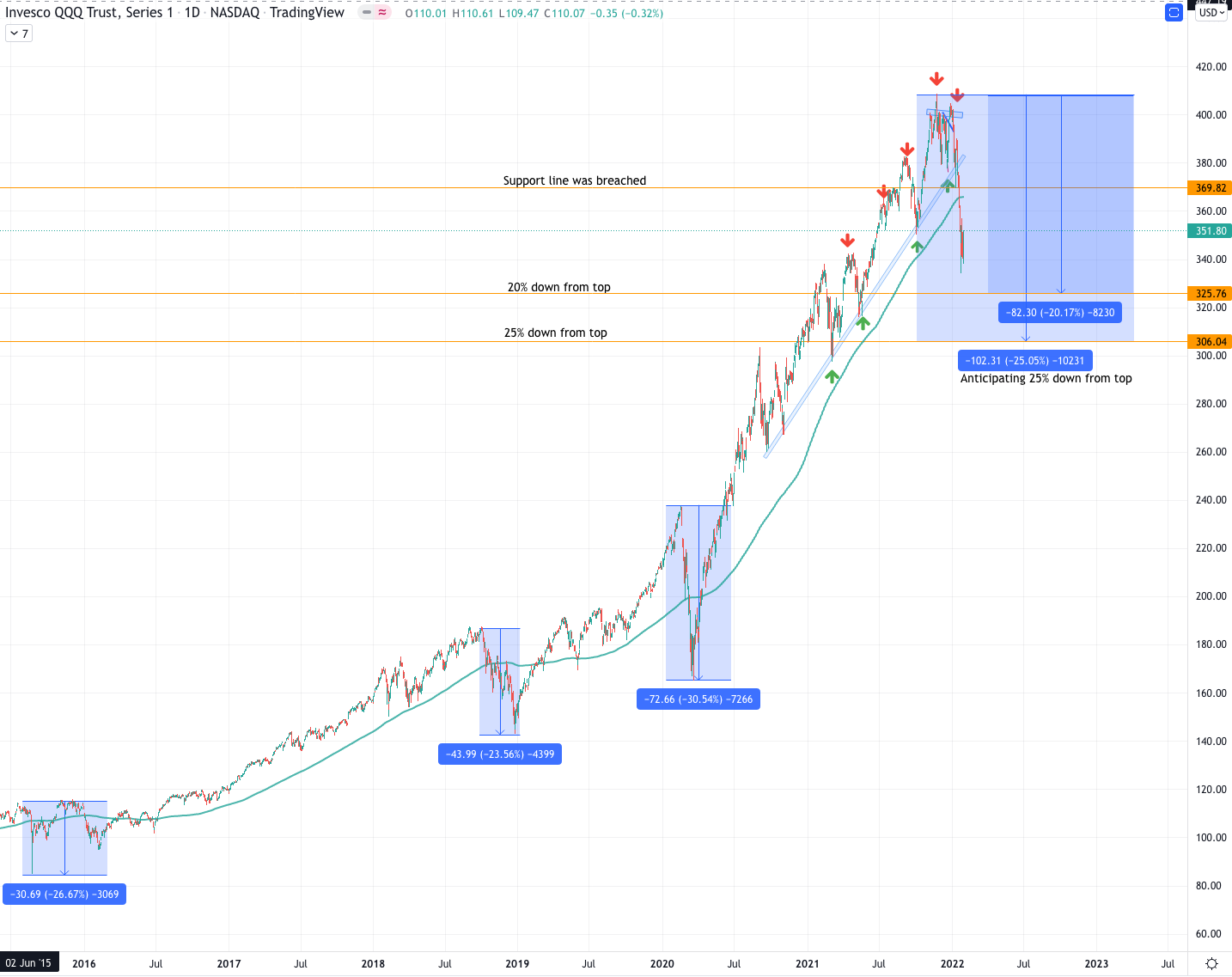 QQQ has breached the trend line (blue range lines) support on daily on 18th Jan, which we anticipated on Jan 9th email. It also didn't hold the horizontal support line (1st orange line) at 369
Last two weeks QQQ moved wildly after major earnings from large caps, between 335 to 370, this seems to be the new range for this month and next.
The chart also shows last 3 corrections (blue rectangles) which were above 20% since 2015.
If we anticipate 20% - 25% correction this year the next two support for QQQ are at 325 and 305 (last two orange horizontal lines)
Look for these support to add heavily to your existing positions and also it would be right time to add new stocks.
-Alpha Investor