Portfolio 2023: Buy CRWD
Portfolio 2023
We are adding another cybersecurity stock today to Portfolio 2023.
CRWD is set to announce earnings after hours today, so we have to be conservative on how to approach this trade.
CRWD is leader in endpoint security and it's one of the stock that can grow significantly in next 10 years.
Today, instead of buy it outright, what we are selling Put options on CRWD
Sell, to open, CRWD Apr 21 2023 $135 Puts @ $15.35 or better
That means you will be credited for $1535 in your account right away for the collateral of $13,500
Two scenarios can happen:
CRWD shoots up after earnings and closes above $135 by end of the expiry
It means we won't purchase any stock and keep the premium of $1535, that's more than 10% gain on our collateral, and we would wait for CRWD to come back a little and start our position later.
CRWD plunges after earnings and closes above $135 by end of the expiry
It means we will get assigned (buy) 100 shares of CRWD for $119.65. If CRWD remains around $119 even after earning plunge, we will not loose a dime.
If CRWD falls further than $119, then we keep holding CRWD because it's a good stock to hold for long term and it will come back.
Notice the expiry is 21st Apr, that's more than one month away, CRWD can come back up after the earnings drop.
Note: Take this trade only if you want to hold CRWD in your portfolio.
---
You can just buy the stock out right today or wait for earning result and later start the position to avoid earnings volatility.
CRWD Inc: Buy @ $125 to $120
Current Price : $125
Pays Dividend : No
Market Cap : $29B
Max Analyst Target : $235, avg target $159
Net Income growth: Negative
Basic EPS growth: Negative, Expected to turn positive in 2023 and 7x by 2025
Stop Loss at: $89
CrowdStrike Holdings, Inc. provides cybersecurity products and services to stop breaches. It offers cloud-delivered protection across endpoints, cloud workloads, identity and data, and threat intelligence, managed security services, IT operations management, threat hunting, Zero Trust identity protection, and log management. CrowdStrike serves customers worldwide. The company was founded by George P. Kurtz, Gregg Marston, and Dmitri Alperovitch on November 7, 2011, and is headquartered in Austin, TX.
CrowdStrike is a cybersecurity company that offers a range of cloud-based endpoint protection services, threat intelligence, and incident response solutions. The company was founded in 2011 and has quickly established itself as a leader in the cybersecurity industry, with a customer base that includes some of the world's largest companies and organizations.
CrowdStrike's innovative approach to cybersecurity, which includes the use of artificial intelligence and machine learning, has earned the company a reputation as a trusted provider of cutting-edge security solutions. The company's cloud-based platform also allows for fast and efficient deployment of its security services, which has contributed to its success in the marketplace.
Looking to the future, CrowdStrike is well-positioned to continue its growth and leadership in the cybersecurity industry. As more companies and organizations recognize the importance of robust cybersecurity measures, demand for CrowdStrike's services is likely to increase. The company's focus on innovation and staying ahead of emerging threats will also help it maintain its leadership position in the market.
Weekly Chart: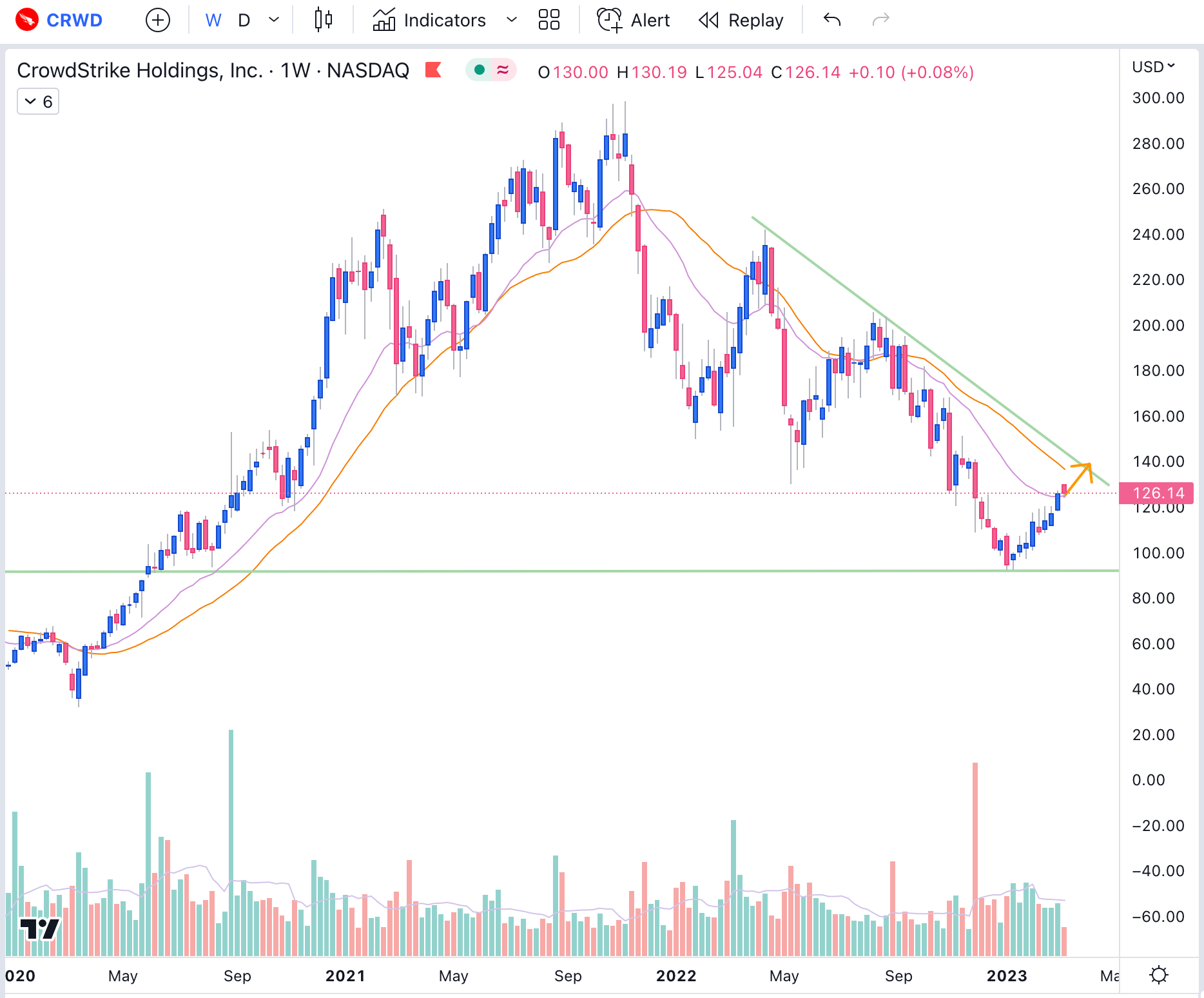 This is earnings trade, be cautious about the position sizing.
But if you have long term vision of at least 5 years to hold the stock, than you can start a position or sell a put.
Earnings Estimates: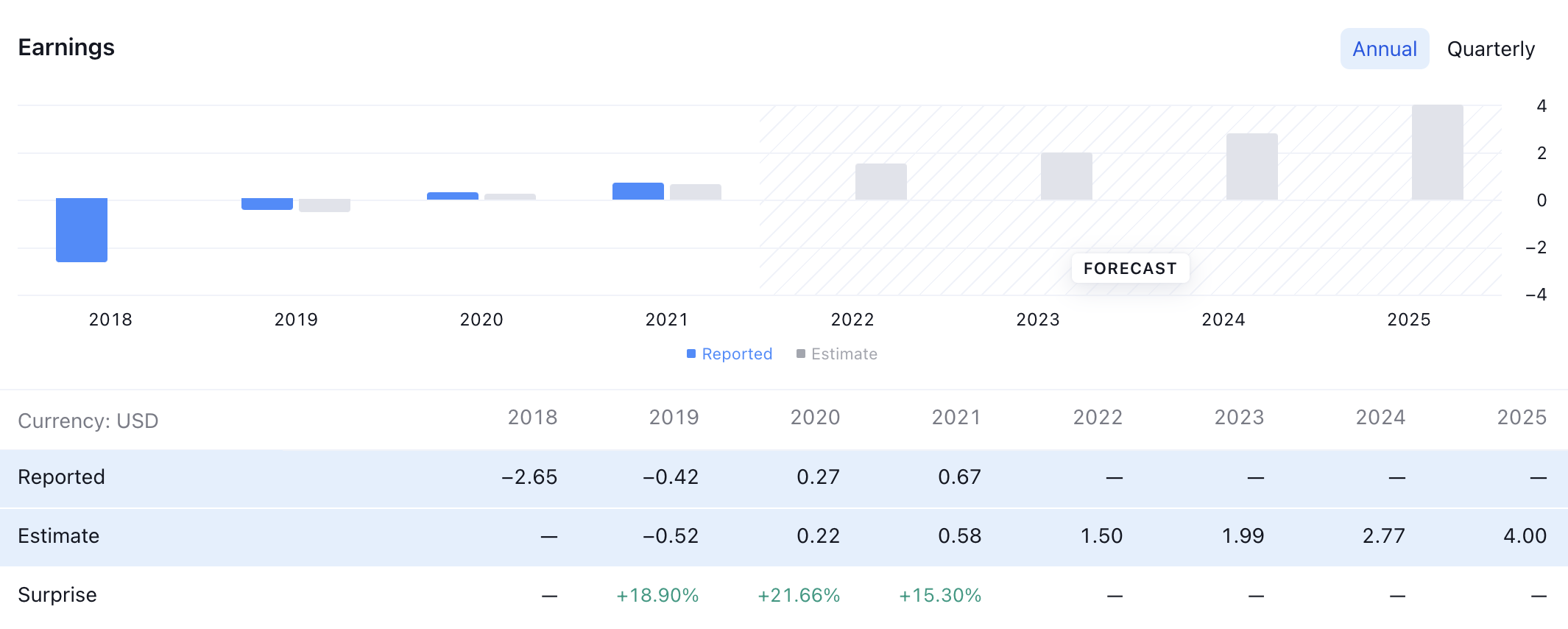 CRWD is expected to grow earnings, at rapid rate by end of 2025. It's estimated from 0.67 in 2021 to 4 by 2025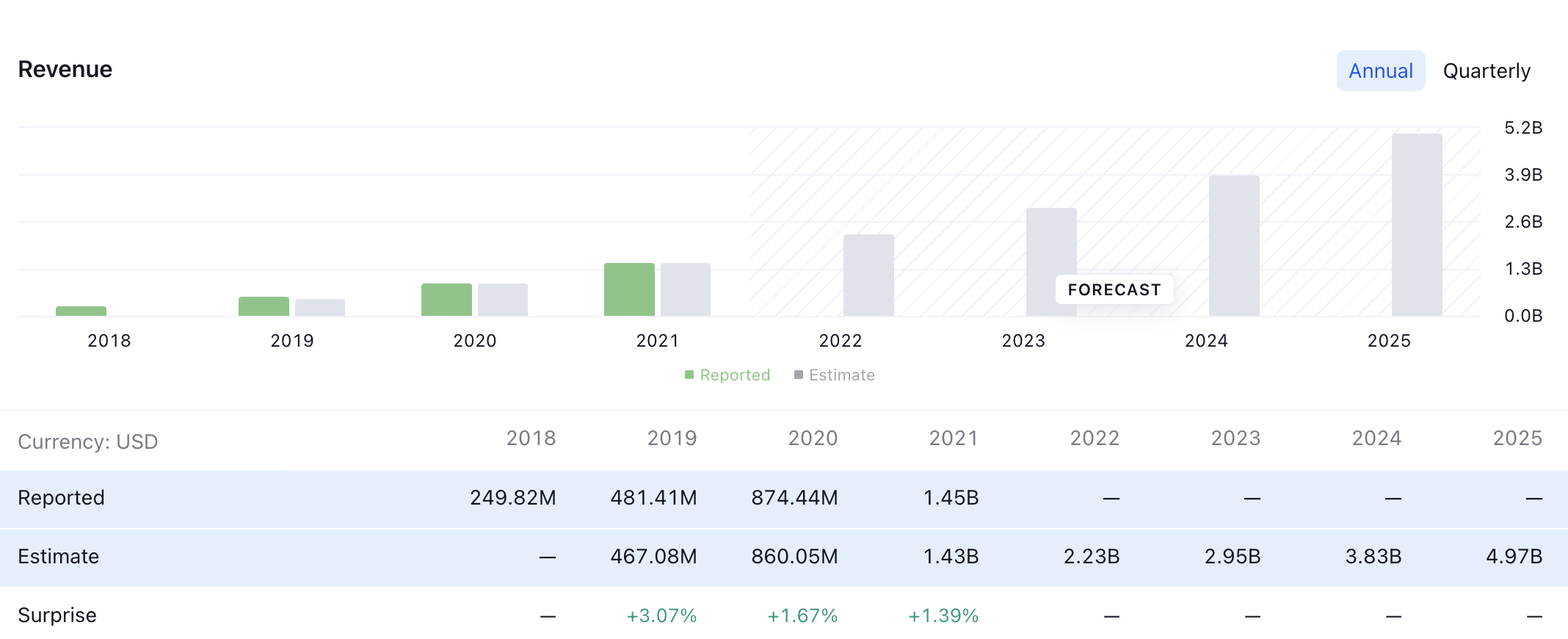 Revenue is estimated to be doubled by end of 2025
-Alpha Staff