Note : This stock might be part of our 2021 portfolio, please subscribe to get our 2021 portfolio updates.
What it does?
Agora, Inc. provides Real-Time Engagement Platform-as-a-Service (RTE-PaaS), Its RTE-PaaS offers developers with software tools to embed real-time video, voice, and messaging functionalities into applications. API is based in China, US and has international presence as well.
The company's enterprise-grade products include Real-Time Video, Real-Time Voice, Live Interactive Video and Audio Streaming, Real-Time Messaging, Real-Time Recording, Real-Time Streaming Acceleration, and various use case products that serves as building blocks for developers to embed the respective functions in applications.
Its real-time engagement products are delivered through its Software-Defined Real-Time Network, which is a virtual network overlay on top of the public internet. The company offers its solutions in the areas of social, education, entertainment, gaming, enterprise, financial Services, healthcare, and Internet of Things, as well as provides customer support services
API listed as public company in June and initially it's stock price rocketed. After pricing at $20 (above the expected $16-$18/share range), the stock price opened at $45, up 125%. Since then the price is finding it's support base around higher $30s.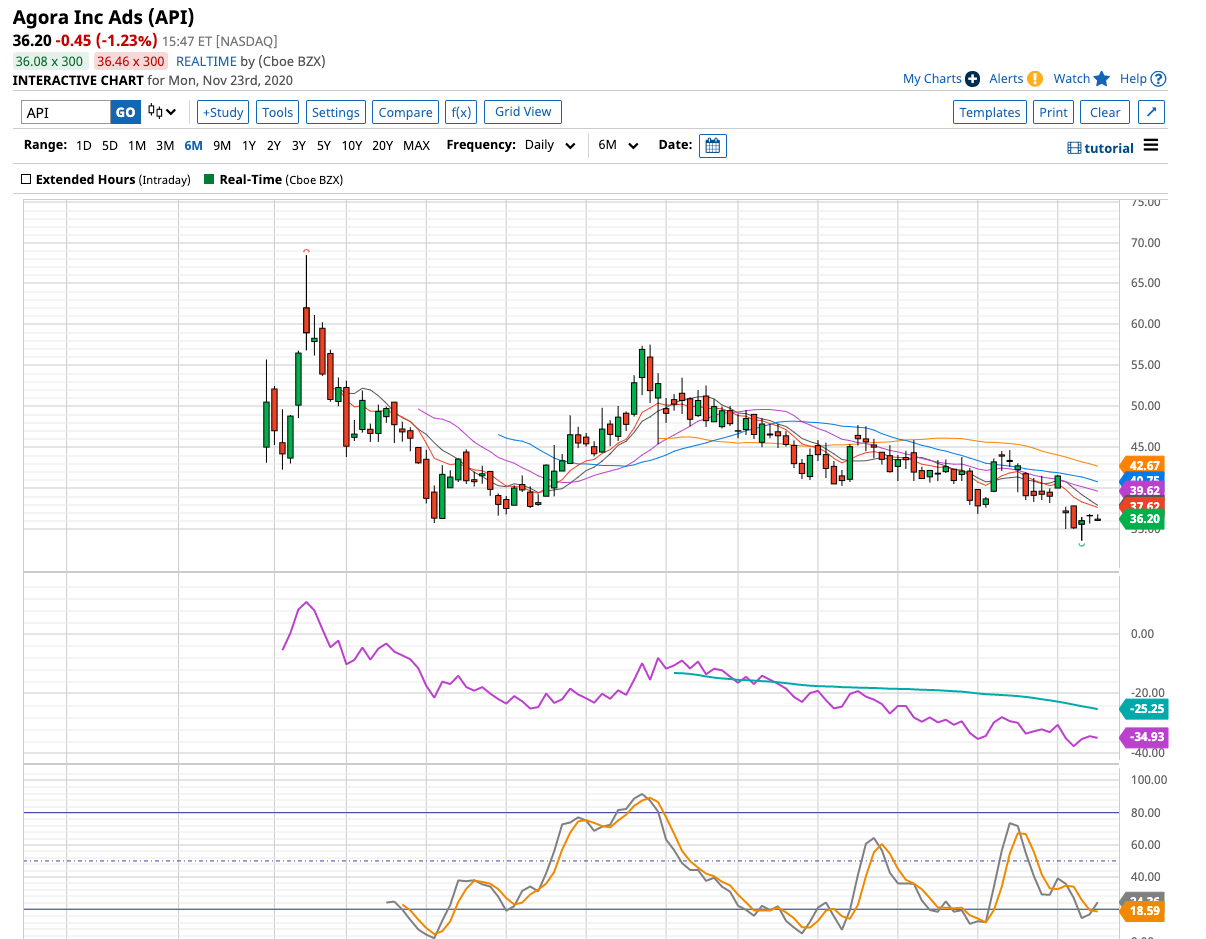 It has a global market opportunity, a Chinese home-base advantage, and positive free cash flow, Agora is competitively positioned to keep growing in the near future.
The price is attractive for an entry point and offers significant upside potential. It's a high-risk, high-reward play. If API keeps growing at this and higher rate, then the stock has potential to double from here.
Also, near lockup expiration date for a recently IPO'ed company, we do see the price decline because of anticipation of insider selling the stock and once the expiration date passes, the stock price rebound significantly. The lockup expiration date for API is 12/23/2020.
We will start adding smaller positions and on any serious dips near lockup or after, we anticipate to add more and build our positions gradually. We recommend to hold API for next 2-3 years.
Don't bet the farm on one stock.